It's time for the LPIN to Level Up!
The LPIN 2021 convention will be held March 26th – 28th in Fishers, IN at the Forum Event Center. The focus of this year's convention will be attendee experience, education, and training.
* We will be observing mask and social distancing recommendations per City of Fishers guidelines to ensure the safety of our attendees, staff, and volunteers. Virtual options are available for those at risk or who choose not to attend in person.
In association with AF-Indianapolis we present the first in its Learning Local series –  interactive events that aim to educate and inspire the Central Indiana community by the Central Indiana community.
Election rhetoric typically claims that Washington D.C. can never balance a budget. Moreover, politicians from both sides of the aisle claim that they know how to best spend and allocate your tax dollars.
But what about in our own backyards? Where does our money go and how do municipalities form budgets? Join us on March 26 as we learn the answers to these questions and more from our experienced panel.
This is an online virtual event. Registration is free. 
Chelsey Manns is the Principal of Manns Consulting, an economic development, redevelopment, and workforce development consulting firm serving primarily municipalities and not-for-profits. Manns's background includes serving as the Executive Director of the Morgan County Economic Development Corporation, a Project Manager for the Indy Partnership – the 9 county Indy-metro regional economic development organization, and the Business Development Director for Banning Engineering, a civil engineering firm based out of Plainfield. Currently, her clients range from municipal and county Redevelopment Commissions to strategic planning efforts for both local and regional economic development organizations. Manns attended the University of Indianapolis where she earned her Bachelor's in Finance and has a certificate from the Oklahoma University Economic Development Institute.
John V. Accetturo is a Certified Government Financial Manager with over 35 years of distinguished government accounting and financial management experience at all levels. He holds an M.A. in Business Administration from Illinois State University and is a graduate of the Command and General Staff College. John was a member of the Carmel City Council from 2008-2011 and was a Commissioner on the Carmel Redevelopment Commission. Currently, he is a Principal in CMA Consultants LLC specializing in trust, estates, and taxes.
Rob Kendall is the producer for Chicks on the Right and guest host on WIBC. He was a member of the Brownsburg Town Council from 2012-2015. He also served as Director of the Indiana Board of Pharmacy and worked under Indiana State Auditor Suzanne Crouch.
Following that panel discussion, we intend to have a Q&A panel with current LPIN leadership and anyone running for leadership
Current Announced Candidates:
Chair: Evan McMahon
Vice Chair: Morgan Rigg & Lucy Brenton
Secretary: Alyssa Salgado
Treasurer: Michael Schultheiss
The 1994 Society will have a breakfast Capri Italian Restaurant on Sunday morning beginning at 9:00 am. Seating for the breakfast is limited to 50 people. It will include a speech from Mark Rutherford and a discussion regarding the LPIN Strategic Plan which will guide us in the coming years to achieve our specific goals.
The speech will be recorded and posted and a link sent to all current 1994 Society Members. 
Covid-19 Safety Information
(as per our approved safety plan and the Fishers Health Department):  
Mask usage is required–no exceptions. You will be required to wear a mask unless you are actively seated at your dining table. If you feel you are unable to comply with this mandate, there is a virtual option to attend the convention remotely. We will have staff circulating in the event to ensure compliance. Masks will be available at the door if you do not have one with you.
There will be a temperature check upon admission- anyone with a fever above 99.8 will be asked to leave the in-person event and attend virtually. Your contact information will be retained by the LPIN for contact tracing only should it become necessary due to a confirmed case of COVID-19 at the event. 
Social distancing will be observed during the entire event as much as possible, again, staff will be enforcing this as much as possible. 
Please be advised that if we fail to meet these requirements they may shut down our event at this venue and there may be consequences for the venue as well. 
In-person seating for this event is limited due to social distancing restrictions. Priority seating will be granted to those that have purchased in-person packages. Paid participants are seated as a first priority. Late-arrivals, or those not pre-registered, may be turned away at the event venue and asked to participate virtually if the venue is at our approved capacity. 
This year's convention will also have the option to attend virtually via a registered Zoom link. Pre-registered Delegates and Paid virtual package holders will receive information via email on how to log into their events with Zoom. 
There are two options available for virtual participation. The $100 virtual package registers you for remote participation in all weekend events with virtual options available, such as the Friday night panel and Saturday morning training events. There is also a Free Business Meeting Only option so delegates can participate in the business meeting via Zoom without attending in person.  
2021 LPIN Award Nominations
Awards given to Libertarians who have gone above and beyond the normal activism. To be voted on by the delegates, and presented at the LPIN State Convention Banquet.
See past winners
Nomination Deadline: March 19, 2021
Dr. Barbara Bourland Light of Liberty Award: The recipient is honored as the person most responsible for growth of the party and dedication to the libertarian cause.
Susan Bell Officeholder of the Year Award: Awarded to a current elected officeholder from the Libertarian party who best promotes libertarian principles and values through public service.
Ken Bisson Outreach Award: Awarded to a party member who has worked exceptionally hard to spread the message of libertarian principles to as many potential voters as possible.
Joe Hauptmann Campaign Leadership Award: Awarded to a campaign volunteer who has worked above and beyond in an extraordinary fashion, and contributed significantly to the success of a campaign.
Phil Miller Candidate of the Year: Awarded to a Libertarian candidate who has shown an extraordinary ability to reach out to and connect with voters, as well as to further the cause of libertarianism.
Submit Your Pick:
A La Carte
1994 Society Breakfast: $50 (non-member)

Business Meeting Only $0 (remote)
Convention purchases do not count towards membership dues.
Sponsorship Opportunities
We have sponsorship opportunities available at multiple levels. Do you want a table at the business meeting? Do you want to be included in swag bags for our members? Please see our Sponsorship Opportunities packet. We have a level that is right for you and your organization.
Silent Auction
Kristi Avery will be overseeing our silent auction fundraiser this year. Please contact her with donations and then come prepared to bid on items.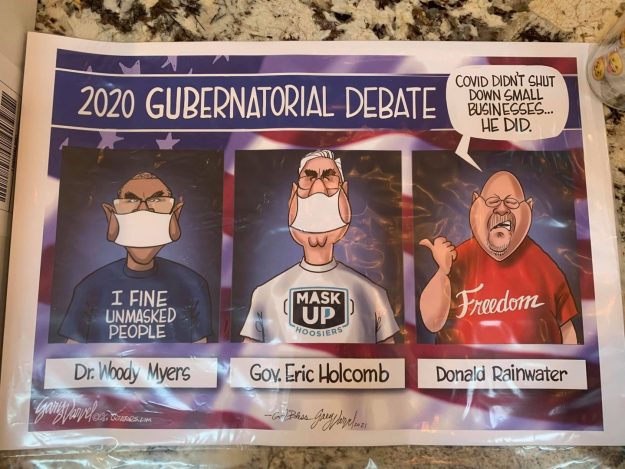 Accommodations
Book your room at the Hyatt House Fishers.
More information at the LPIN 2021 Convention Facebook event page.