The Libertarian Party is the fastest growing Political Party in the United States. Most of the day-to-day work of our party and our campaigns is done by thousands of volunteers, candidates and elected officials working at the state and local level.
We appreciate your willingness to run for office and help build a new political majority in America. Thank you!
Candidate Sign Up | Campaign Volunteer
A Message From The State Chair
Dear Fellow Libertarian,
I believe that it has never been more important than this current era of politics to run as many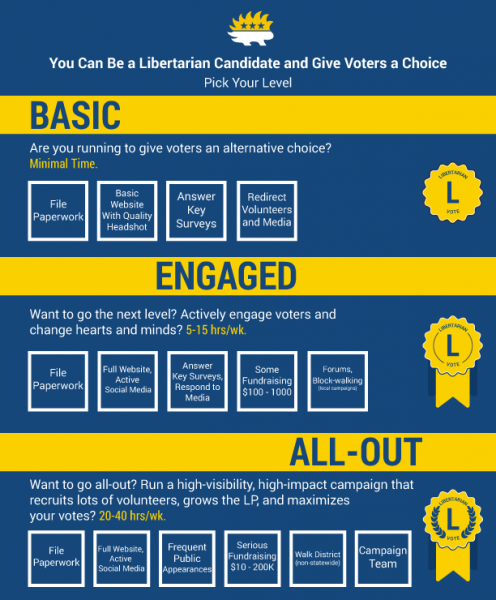 candidates that will proudly speak out for the foundational principles of our republic.
This is the year for us to make the case to Hoosier voters that the Libertarian Party is the only reasonable solution in this radical political world. In talking to our friends, family, and co-workers, we want to ensure that voters have the desire and the opportunity to mark their ballots for Libertarian candidates next November.
The Old Parties have failed to uphold the public trust, and it is time for the voting public to restore it. Our citizen candidates run small yet effective campaigns. Our Libertarian candidates do not try to promote themselves. They try to work toward a better life for their families, friends, and neighbors.
The Libertarian Party of Indiana must seize this moment. We cannot do it without your help.
We need committed Libertarians like you to run for political office.
We also need candidates committed to the proper role of the Federal Government to run for Congress in both the House and the Senate in 2022. Now is the time to start planning your campaign!
Over the last 30 years, the Libertarian Party has built a solid base of voters in every corner of Indiana. These voters deserve to have candidates who represent their views on the ballot in 2022.
This is not possible if regular citizens like you do not step up and stump for our core principles and for the Constitutions of Indiana and of the United States.
Our political system is not permanently broken. It can be fixed by people like you.
We ask you to participate in achieving these goals. Remember, our party is only as strong as the membership allows it to be.
If you are ready to make the decision to run, here is what you need to do next:
1. Ensure that you are a member of the Libertarian Party so that you can run on our ticket. You can join here.
2. Notify our State headquarters of your interest in running by filling out the online form.  A Libertarian Party official will then follow up with you to discuss possible races in your community or the state and help you through the process.
I look forward to discussing this opportunity with you. I am available anytime via email (chair@lpin.org) or by phone (317-920-1994). Thank you for your continued support of liberty in Indiana.
Candidate Sign Up | Campaign Volunteer
P.S. If you are not personally interested in running, please consider volunteering on another candidate's campaign as a campaign manager or as a worker bee. Libertarian candidates are no different than other campaigners: they need many hands to succeed.
P.P.S. The State Party needs your financial support! Candidate recruitment takes serious time and resources. Please help us offset these costs by joining or increasing your monthly sustaining 1994 Society contribution by $10 per month or to send a one-time donation. Thank you for your continued financial support of the Libertarian Party of Indiana. You can make a donation by visiting this link: DONATE