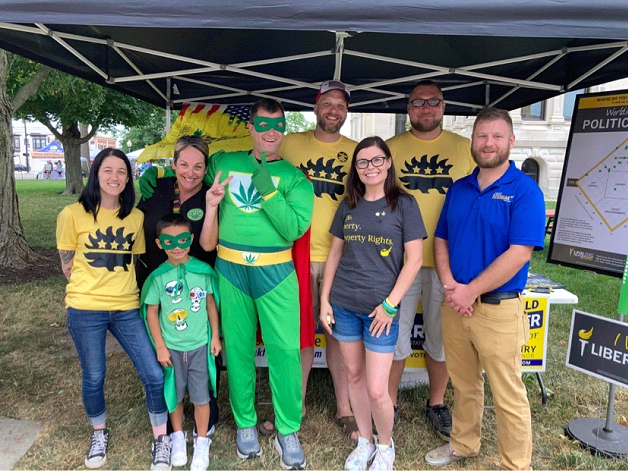 Our core principles of individual rights, limited government, and personal responsibility have never been more critical than in the face of recent developments impacting our beloved Hoosier state. Today, we call upon you to join in protecting our rights, our businesses, and our vibrant hemp community.
Defending Our Values, Supporting Local Hemp Businesses
As you may be aware, our state attorney general's interpretation of the 2018 Farm Bill has sent shockwaves through our local hemp industry. This interpretation threatens the very fabric of our libertarian ideals and the thriving hemp businesses that enrich our communities. The time has come for us to rally together and stand up for what's right. (AG's Opinion)
Empower Our Elected Representatives with Knowledge
From October through mid-November of this year, Liberty Offense (a Libertarian focused non-profit) will be organizing a series of public forums across the state. These forums will delve into the science and myriad uses of cannabis, shedding light on its potential to enhance the lives of Hoosiers. We invite and encourage you to passionately participate in this campaign of education and awareness.
But that's not all—this is where your strength truly comes into play. We urge you to engage not only as informed citizens but also as proactive advocates! Reach out to your local hemp farmers and hemp-related businesses in your communities. Encourage them to join us in writing heartfelt letters to their elected state house legislators, as well as local officials, requesting their attendance at these critical forums. We have attached a sample letter for inspiration! Feel free to edit as needed! (Sample Letters) (Find your legislators)
The first Town Hall event is currently scheduled to take place:
Wednesday, Oct. 11, at 7 p.m. EST
Indiana National Guard Armory
500 NE 6th St, Washington, IN 47501
Officials, experts, and professionals are scheduled to attend, present, and discuss multiple aspects of cannabis.
Liberty Offense is seeking individuals and businesses to help organize more town halls in their local areas. Events are needed in multiple areas. Please let them know if you are interested in helping organize an event in your area and they will walk you through the process and help you make contact with your officials.
Why Your Voice Matters Now
Our state attorney general's interpretation threatens not only our businesses, but our freedoms. By engaging your leaders and attending these forums, our elected officials will witness firsthand the benefits of responsible hemp usage and gain a clearer perspective on the issues at hand. Your letters will amplify the message that the people of Indiana demand transparency, fairness, and the protection of our cherished free market principles.
Three Crucial Goals to Achieve:
Defend Local Commerce: Stand against out-of-state interests and protect our local hemp businesses from undue harm.
Uphold Accountability: Advocate for elected officials to be informed about the real impacts of recent changes on our community.
Secure Our Future: Be a voice against any attempt to undermine our small businesses in preparation for cannabis legalization.
For more information about the forums and how you can participate, please contact: contact@libertyoffense.org.
Let's write our future with the ink of informed debate, respectful engagement, and unwavering resolve.